Activities & Shopping
SPORTS BAR D&B
Soki soba is very popular! The only authentic sports bar in kin town where you can dine!
SPORTS BAR D&B, Kin-cho's only genuine sports bar in the Shinkaichi opened in February this year.
This is the spot to have a roaring time watching sport with your friends, so the bar is fully equipped with a large screen and monitors throughout.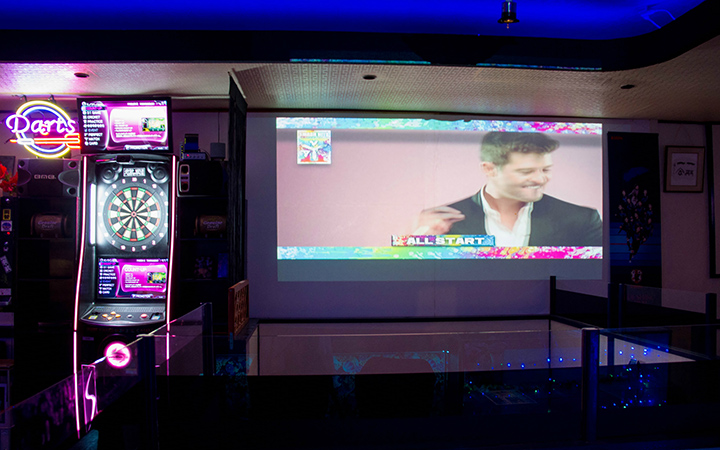 "We want this to be a happening sports bar, so any time there is a baseball, soccer, or sumo match, or whatever, we will be open!, explains Katsu, one of the staff at the bar. Okinawa gets particularly excited about high school baseball, so with everyone cheering along at SPORTS BAR D&B, I imagine that things would get all the more lively and fun.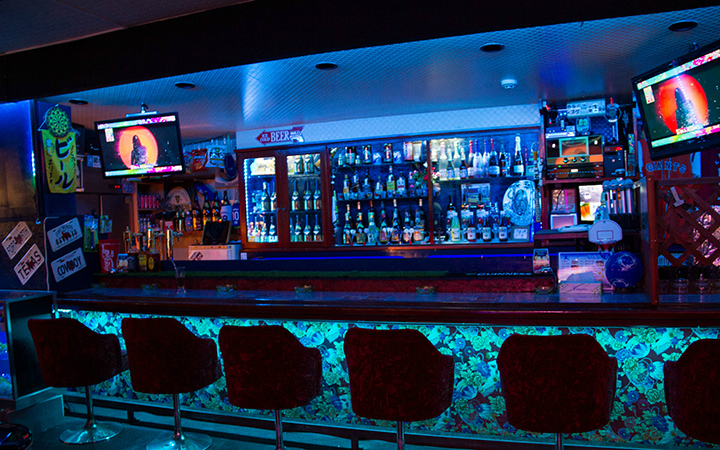 "Our place is the bar that stays open the latest in the Shinkaichi district. And you can enjoy a meal no matter what time you come. Our recommendation and our most popular dish is soki soba. For some reason, we have lots of international customers who order coffee and soki soba late at night. Between midnight and 2:00 in the morning, we sometimes get inundated with orders for soba—as if we were a soba place (LOL). We want people to feel comfortable coming along even just to eat a bowl of soba" explains Katsu.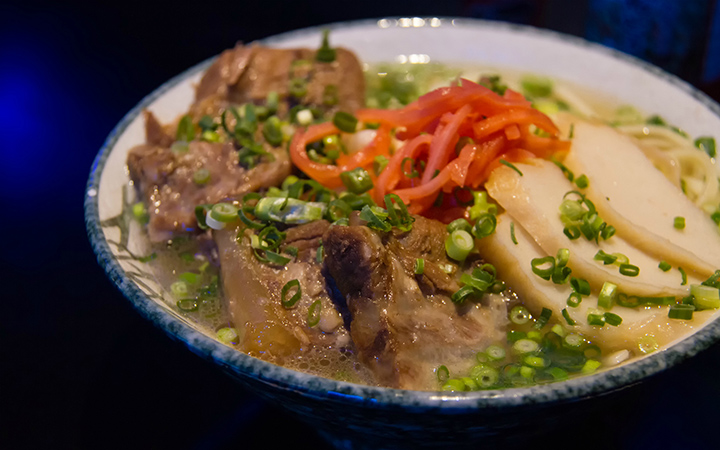 I enjoyed some of the soki soba, this recommended dish that the owner is said to spend six hours preparing. There are two kinds of soki, stewed pork spare ribs: hon-soki (boned spare ribs) and nankotsu-soki (cartilage spare ribs). SPORTS BAR D&B's soki soba comes with the nankotsu version. In a soup made from bonito stock, you get as many as four pieces of tender stewed nankotsu soki, which scores full points for volume. Your chopsticks just can't help reaching for the richly-flavored soup, just like what you would find in a restaurant specializing in Okinawa soba. This is definitely a dish to give a try!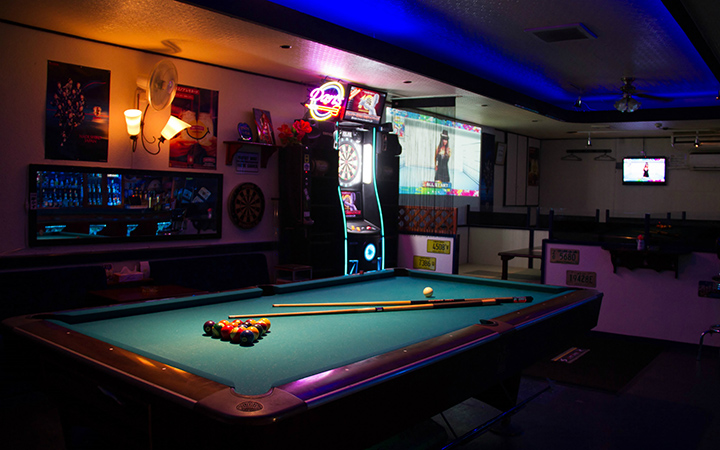 In a word, our bar has all the good points of a place that feels way too just-like-home. We give a big welcome to first-time customers and tourists too! Also, as those in the know in the prefecture know very well, our owner is a master at darts. Anyone who feels confident about their darts skills should definitely give him a try!" says Katsu.
A great place to go to have fun watching sport, and a great place to go to eat the popular nankotsu soki soba. Why don't we all head out to D&B tonight?
Basic information
Address
4144-11 Kin, Kin-cho, Kunigami-gun, Okinawa Prefecture
Car parking
Please use the fee carpark located nearby
Open Hours
Monday–Thursday: 10:00 p.m.–5:00 a.m. next day
Friday & Saturday: 10:00 p.m.–5:00 a.m. next day
Fixed Holidays
Sunday※ National holidays Business
Contact Details
SPORTS BAR D&B
Telephone
090-9786-0167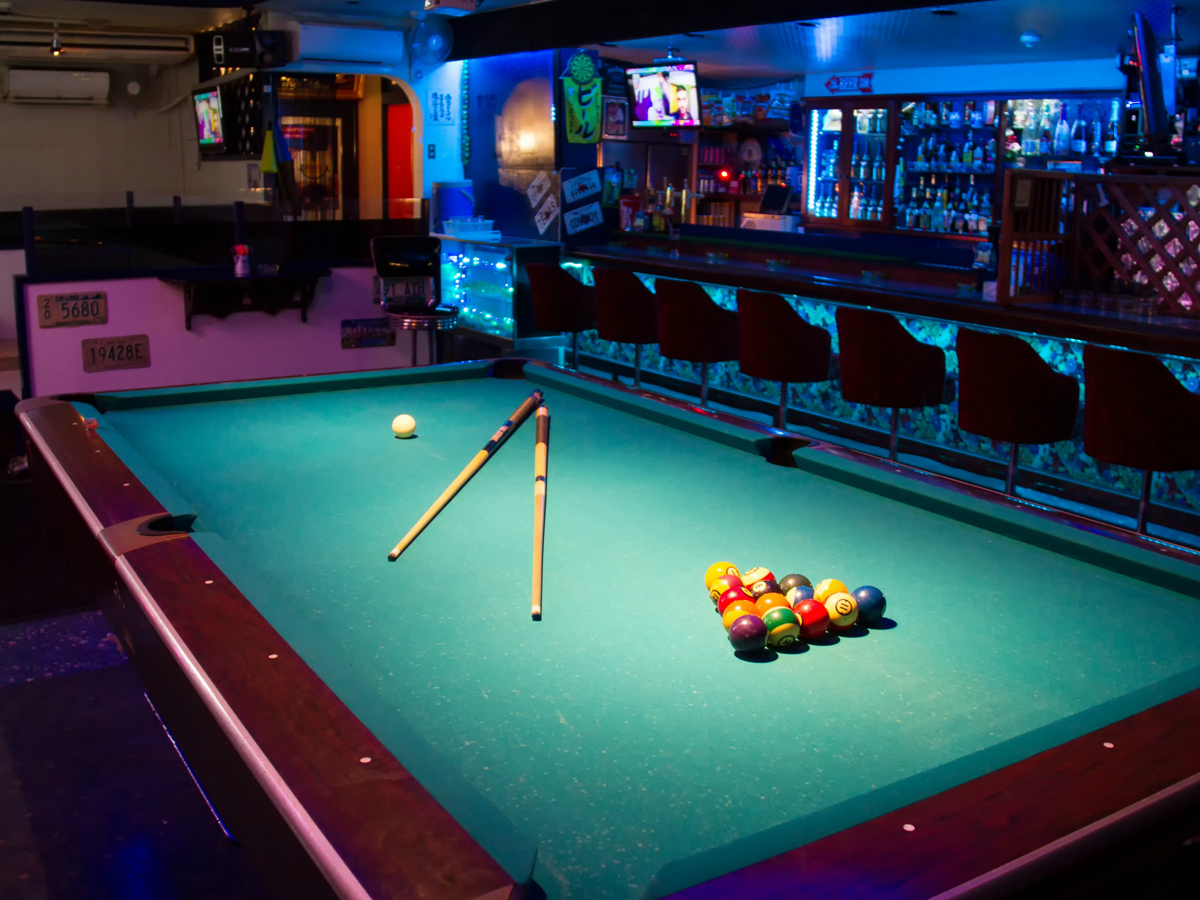 Click "Like!" if you like this article.
You will receive the latest information on sightseeing in Kin Town
---