Accommodation
New Covenant
A seaside condo with great views, perfect for a family holiday.
New Covenant is a condo in a seaside apartment block that you allows to have a whole floor all to yourself.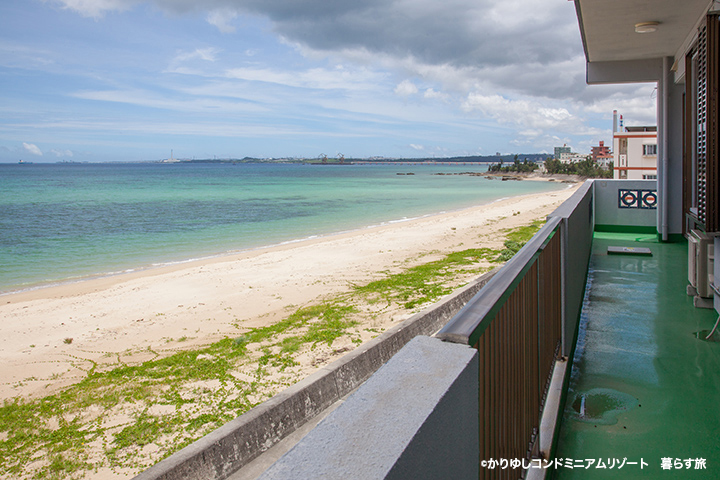 The points that most highly recommend it are the gentle, blue sea and white, sandy beach that spread before your eyes.
The stairs lead directly to the seafront, taking you to the beach in less than a minute.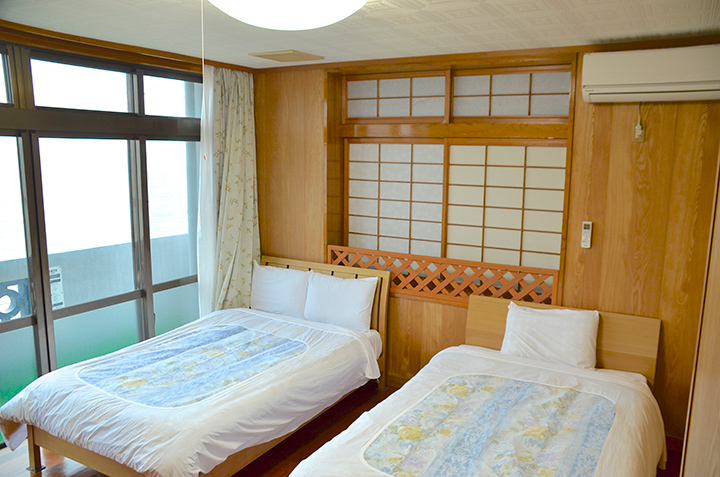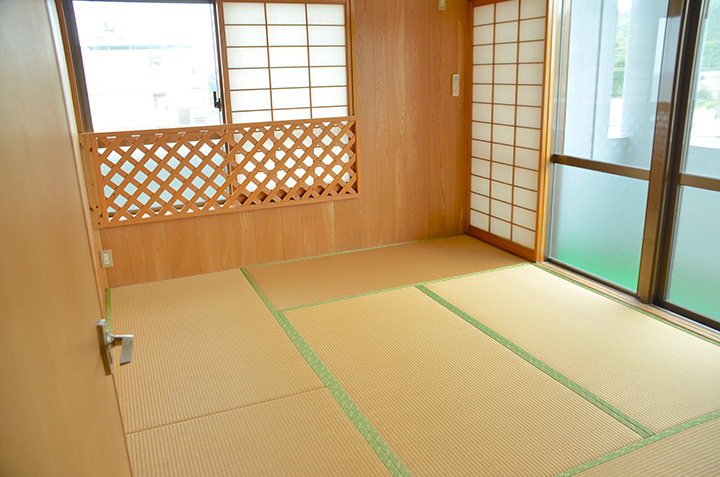 With both Western and Japanese-style bedrooms there is something for everyone, from the youngest to the oldest. All you need for a relaxing family holiday.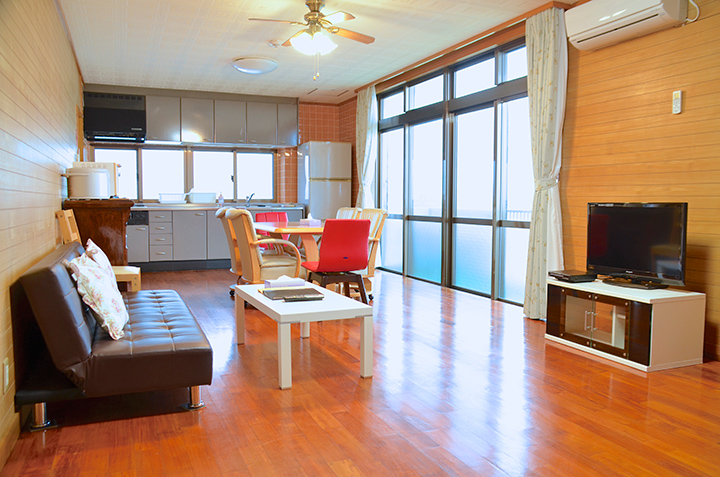 The spacious kitchen-dining area lends itself to communal cooking and dining. Ideal for sharing those usually difficult to arrange family-only relaxing moments.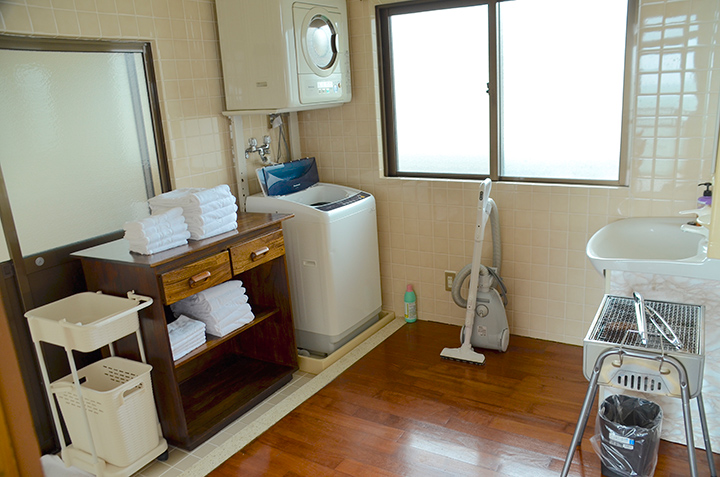 The dressing room next to the bathroom is nearly 10 square meters in size and comes complete with washing machine and tumble dryer. Whether they get covered in sand from the beach or mud from the hills and fields, you don't need to worry about cleaning your kids or their clothes, allowing them to play outside to their heart's content.
Approximately three minutes from Okinawa Expressway Yaka I.C.. Access is extremely convenient, making it the ideal base for sightseeing in the Kunigami highland area, such as Churaumi Aquarium, as well as sightseeing in southern Okinawa such as Sefa-Utaki and Kudaka Island.
With numerous 9-hole and 18-hole golf courses within a 30-minute drive, the condo is irresistable to lovers of the game.
Basic information
Address
2330-6 3F, Yaka, Kin Town, Kunigami District, Okinawa Prefecture
Car parking
Available
Contact Details
Kariyushi Co. Ltd Kariyushi Condominium Operations Department
Telephone
098-866-7377
URL
http://kariyushi-condo.jp/rm_area/rm_kin/
Remarks
*Available for two nights or more

• Facility type: Apartment block
• Number of rooms: One 2LDK
• Check-in: 15:00, Check-out: 11:00
• Curfew: N/A
• Internet: N/A
• Smoking: No-smoking throughout
• Payment: In advance"

Bedrooms
• 2 x single bed
• 3 x futon (Japanese-style room)
• 1 x sofabed Sleeps a total of 6 adults and 2 pre-school children (shared sleeping arrangement)
• Air-conditioning in each room

Kitchen
• Kitchen
• Table and chairs
• Stove
• Refrigerator
• Microwave
• Rice cooker
• Hot water pot
• Coffee maker
• Cooking utensils
• Crockery and cutlery
• Washing up liquid
• Sponges"

Living room
• Air-conditioning unit
• LCD TV
• Sofa (sofabed)
• Tissue box

Bathroom & toilet
• Bathroom
• Shower
• Bathtub
• Bath towels
• Face towels
• Bath mat
• Hairdryer"

Toilet
• Toilet paper
• Mat

Laundry & other
• Washing machine
• Tumble dryer
• Vacuum cleaner

Other furnishings
• Shoe rack
• Slippers
• Garbage can
• Garbage bags
• Charcoal barbecue set
*Foodstuffs, condiments, charcoal not provided. Charcoal etc. is available from nearby stores such as Home Center Tabata and neighboring Sanei (four minute drive.)"
Toiletries: shampoo, conditioner, body-wash, toothbrush set (toothbrush, toothpaste), razors, brushes, cotton buds, towels, bath towels

Other:
Check-in differs from usual hotel accommodation. We will advise guests of this by e-mail. An e-mail address that can receive this advice will be required when reserving.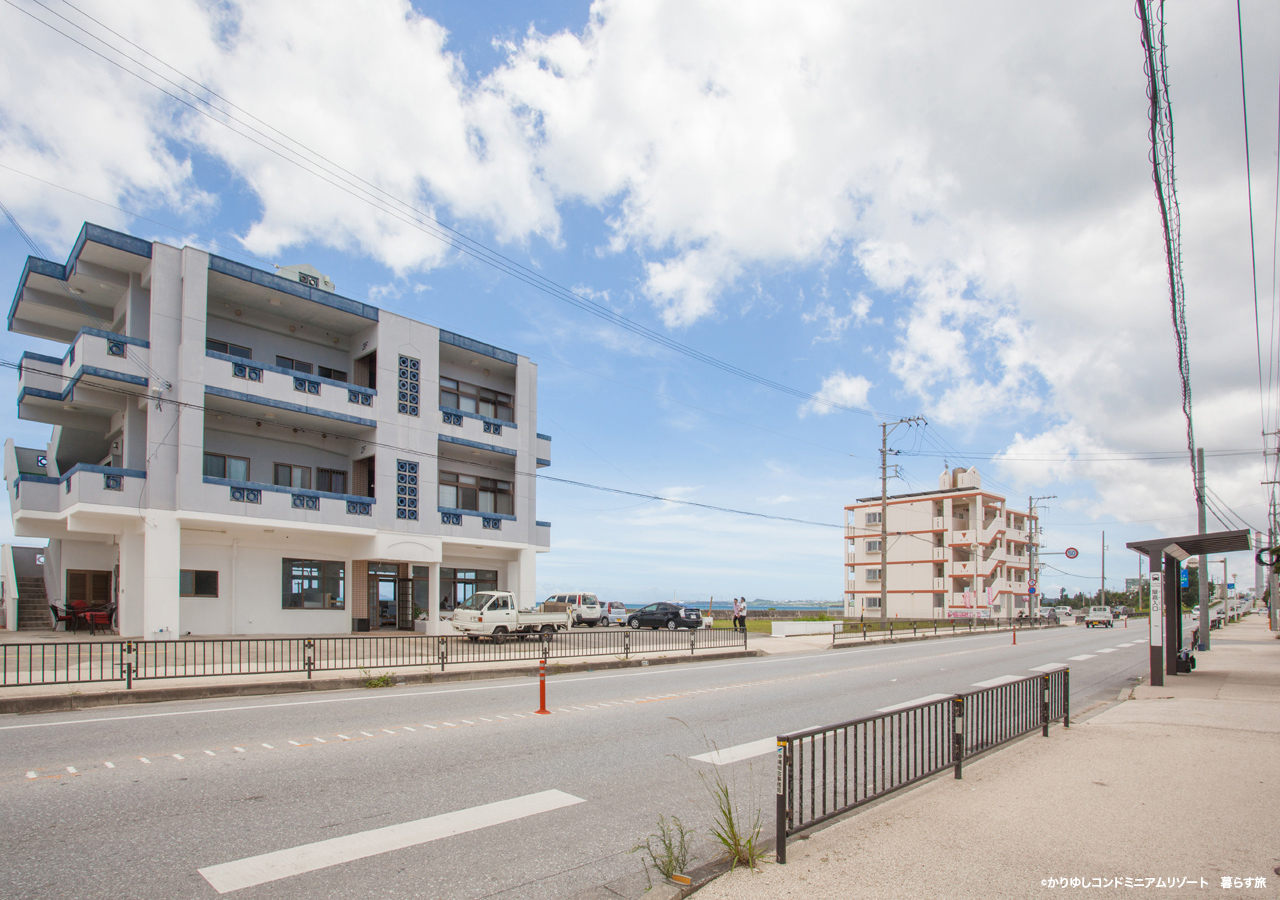 Click "Like!" if you like this article.
You will receive the latest information on sightseeing in Kin Town
---