Food
Garamanjaku
A detached house with red roof, surrounded by greenery.
Enjoy the natural bounties of Okinawa that your body would appreciate.
"Garamanjaku" is a single detached house with red roof, which opened in 2009. The odd sounding restaurant name comes from the name of this area. The unique sounding name is typical of Okinawa.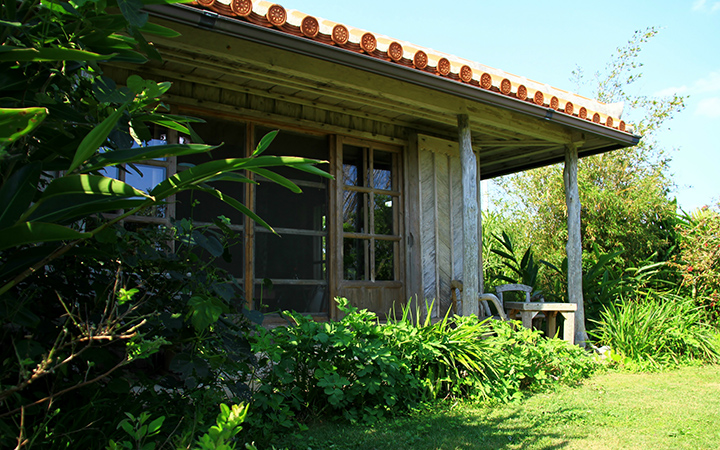 It is also great that here, you can enjoy natural greenery of Okinawa, from the entrance to the garden.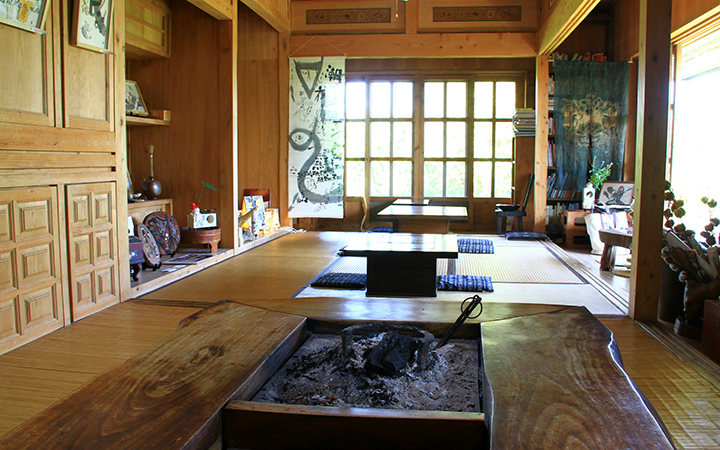 You can experience a warm, nostalgic feel in this red-roofed, Okinawa-style house, built in 1995, with a veranda facing a sunny garden, cool Okinawa-style transom, and characteristic Hibachi.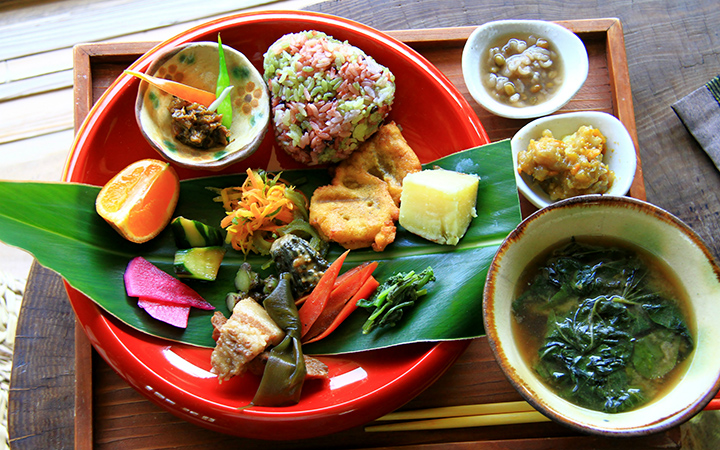 This is "Hyakusai Shoku Oba no Mukashifu." The menu changes daily, mainly serving seasonal Okinawa native vegetables and medicinal plants. 10-12 items on a large plate, 2 small plates, and a soup. Vermilion colored Ryukyu pottery with green leaves of Sunnin is beautiful, and pleasant to see. Today, traditional Okinawa staple, Kandaba (yam leaf) soup was on the menu. Homemade miso with over 40 ingredients including, Asa, Mozuku, and Hijiki. One meal contains over 50 kinds of medicinal plants. It seems good for your body. I mean, it really is good for you. You can feel the nourishment passing through your body from carefully created dishes, and experience the natural gift of Okinawa.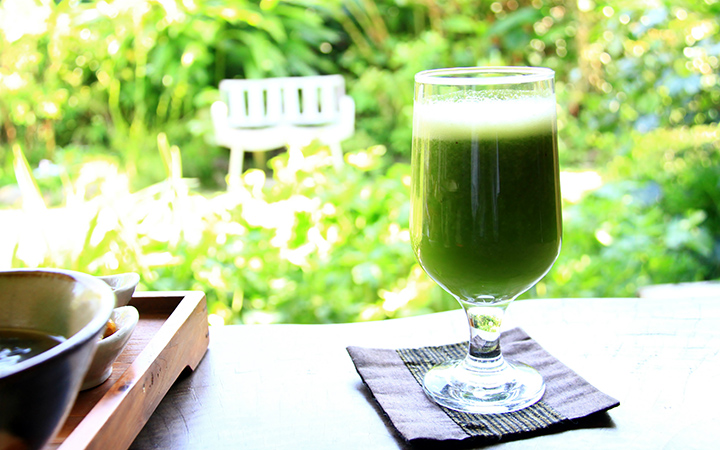 "Vegetable juice," containing about 10 kinds of seasonal vegetables and fruits including, Fuchiba, Nigana, Sakuna, island bananas, guava, and Shikuasa, is also popular. It has a variety of Okinawa's medicinal plants, and looks a bit intimidating. However, the drink also contains a variety of Okinawa fruits, which makes it surprisingly easy to drink.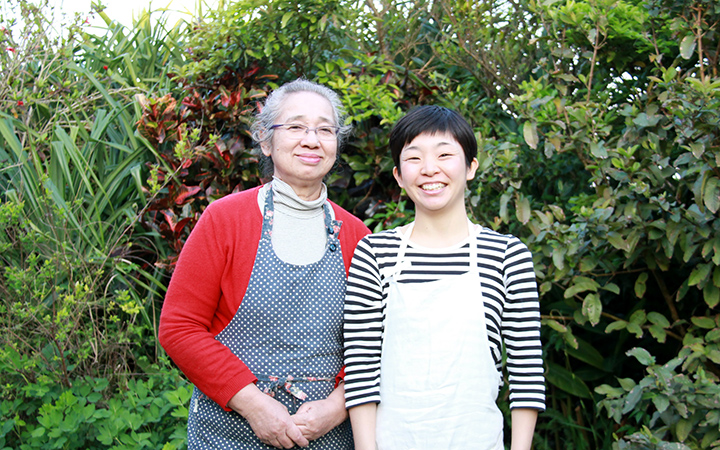 Every ingredient is from Okinawa, and most of them are rare and difficult to find. Also, they are particular about using only non-GMO, indigenous plants. With this level of insistence on quality, it must be difficult to source all of the ingredients, over 50 total. The owner, Kiyoko Yamashiro, says, "Yes. Honestly, it is difficult to source the ingredients. But we work hard to have people think more about food safety, and try traditional foods of Okinawa. I mean, life is made of food." She has special thoughts on food that make up your body and all of life. The food at Garamanjaku represents Kiyoko's ideals and passion. Make a reservation and head over today.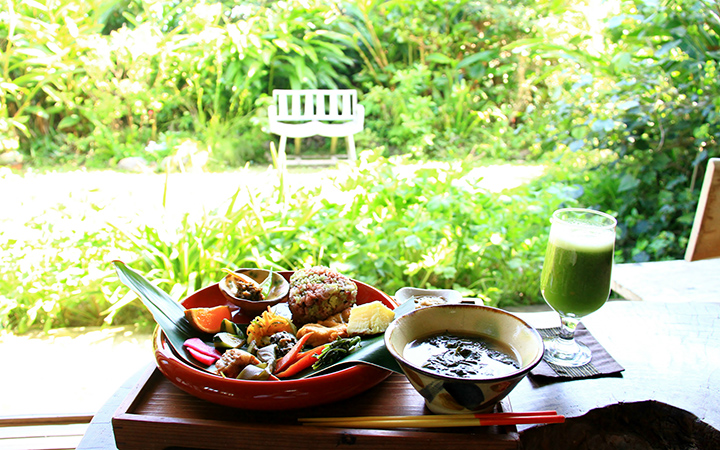 Once or twice a month, Garamanjaku offers Okinawa cuisine cooking class using Okinawa ingredients. Some people come from outside of the prefecture to take the class. It is a great opportunity to think about food. Would you like to try it? (Please refer to the website for basic information.)
Basic information
| | |
| --- | --- |
| Address | 10507-4 Kin Kin-cho, Kunigami-gun, Okinawa-ken |
| Car parking | Yes (7 vehicles) |
| Open Hours | 12:00pm-3:00pm (closes when items are sold out) |
| Fixed Holidays | Tuesdays and Wednesdays |
| Contact Details | Garamanjaku |
| Telephone | 098-968-8846 |
| URL | http://garamanjyaku.ti-da.net/ |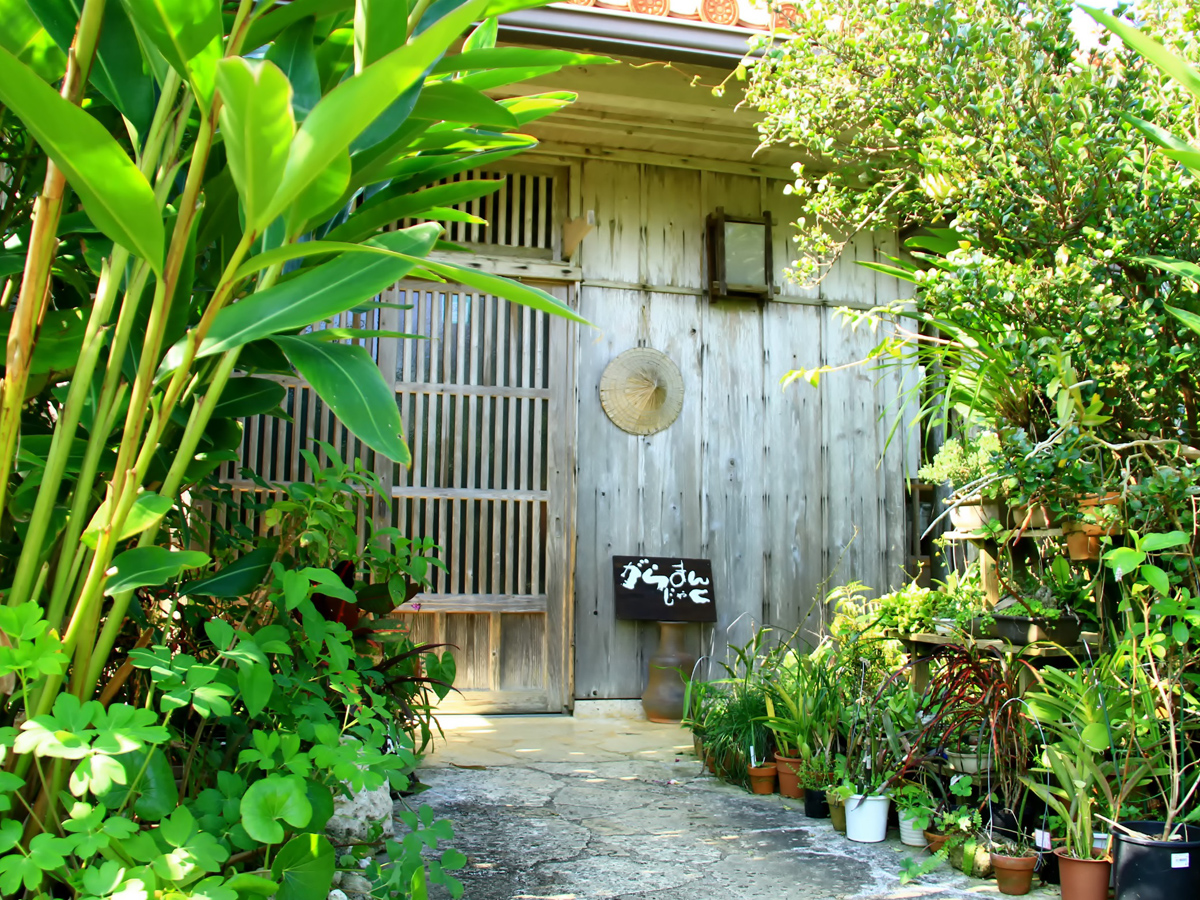 Click "Like!" if you like this article.
You will receive the latest information on sightseeing in Kin Town
---