Activities & Shopping
Nature Mirai Experiences
An interactive learning facility where one can play and learn while experiencing the nature of Kin Town
Nature Mirai Experiences, set in western Kin Town, overlooking the Pacific ocean, is a learning facility where you can experience activities that let you get close to the abundant nature of the water-rich Kin Town, and have uniquely Okinawan cultural experiences. Also, in the neighboring Okukubigawa, there exists one of the rare Mangrove forests of Okinawa's main island, and it is a perfect spot for watching birds and other riverside creatures.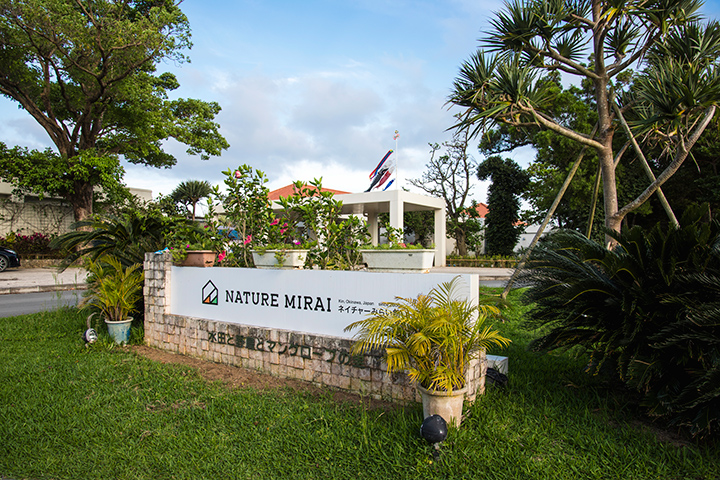 This is the entrance. There is a free parking lot, and a playground near the parking lot. There are also shops, restaurants, and bathrooms in the facility.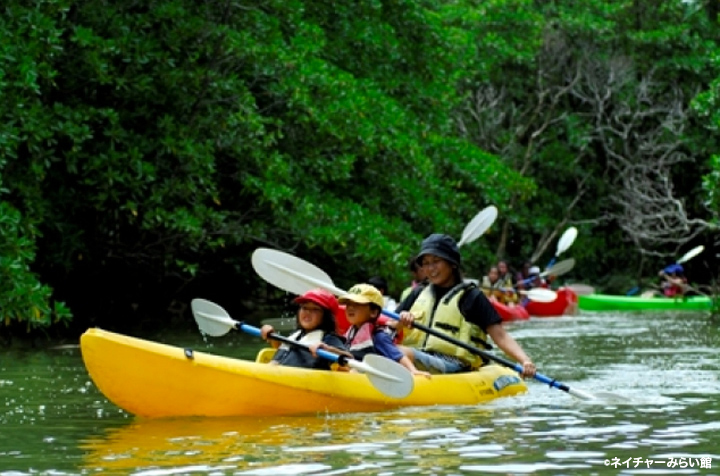 Here you can enjoy the nature of Kin Town and Okinawan culture. The most popular activity is the "Mangrove and Canoe Experience," where guests can get a firsthand look at the Mangrove forest from Okukubigawa. The river's current is calmer than that of the ocean, so it is a good choice for those with small children, and those with little canoe experience. The instructors also teach about Okukubigawa's nature and animals.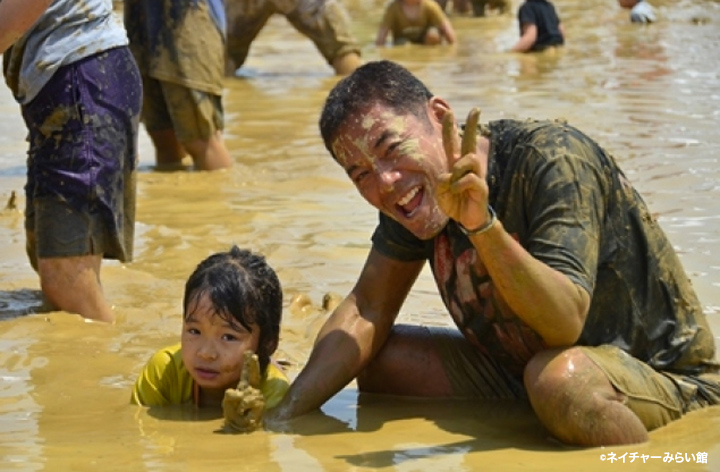 Because Kin Town is known for its abundant water supply, we offer our unique "Rice Field Experience." It's not so often that you can get muddy and play in rice paddies. Guests will be accompanied by an instructor, and there are showers (for a fee) in the facility.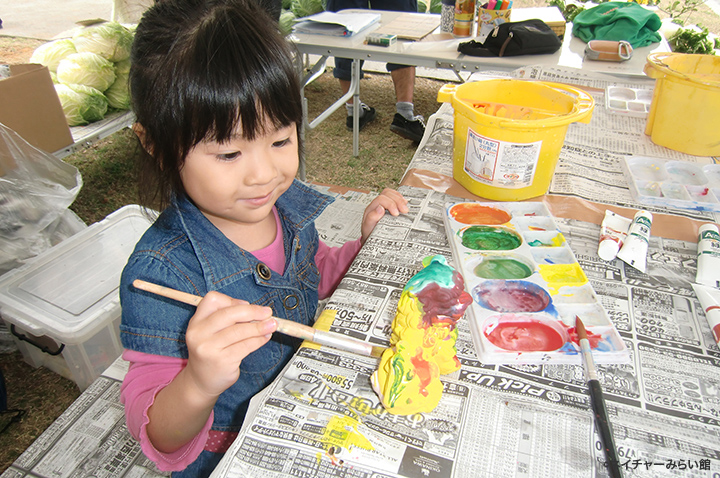 For those interested in arts and crafts, we offer our "Okinawa Sandal Art Experience," "Shisa Coloring Experience," and "Photo Frame Art Experience." Our cultural experiences are also popular with ladies and small children. With our selection of outdoor experiences and cultural experiences, both active and indoor types can find something to enjoy and have a good time at Nature Mirai.
Those who want to both take part in many different experiences and also spend some time relaxing in nature and can't seem to make of their minds might consider taking advantage of the day trip plan at our campground. Tent, sleeping pad, and table set rentals are available, and we can also provide BBQ equipment and ingredients.
Located an hour by car from Naha airport, and in a favorable position for freeway access, it is a convenient location to be able to see the rare Mangrove forests on Okinawa's main island and to be able to partake in cultural experiences. Each activity and the campground's day trip plans are available by reservation only, so please contact Nature Mirai's management office for more information.
Basic information
Address
11818-2, Aza-yaka, Kin-cho, Kunigamigun, Okinawa
Car parking
Yes (Approximately 50 vehicles)
Open Hours
9:00-18:00 (Open until 21:00 some days) *
Management Office Hours
Fixed Holidays
January 1-3 *Special closures for facility inspections etc. do occur
Contact Details
Nature Mirai Experiences Management Office
Telephone
098-968-6117
URL
http://www.nature-kin.com/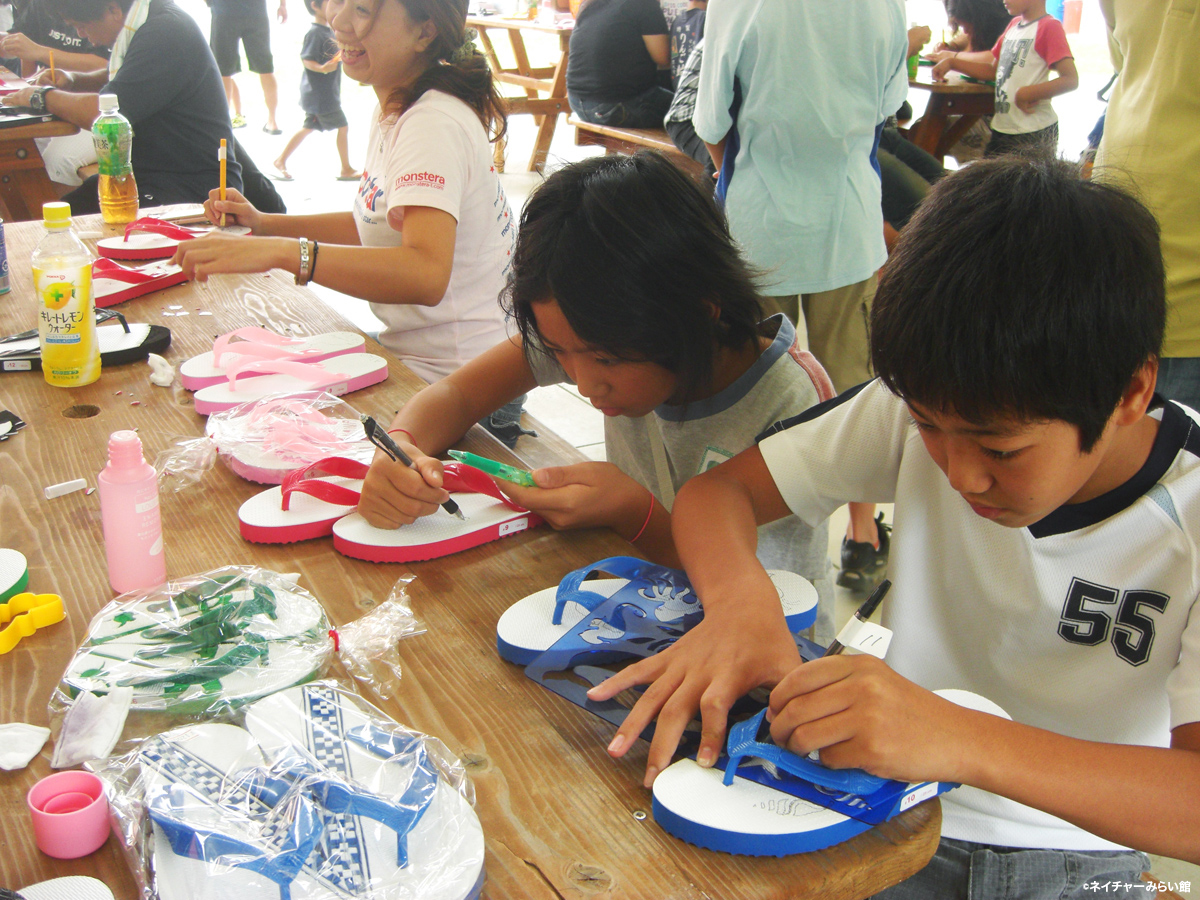 Click "Like!" if you like this article.
You will receive the latest information on sightseeing in Kin Town
---